Planning Consultation for 19/00444/PLF Land North East Of Airmyn Road Roundabout, Airmyn, East Riding Of Yorkshire DN14 8LA. A new planning application has been received for a KFC and Costa on land north east of Airmyn Road roundabout (Glews roundabout), further details below and online.
For link to planning application on ERYC website - Click Here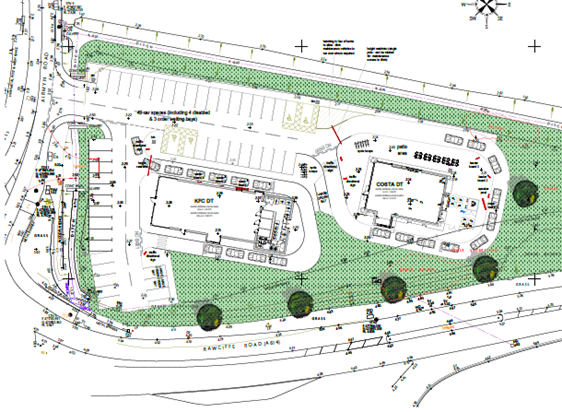 19/00444/PLF

Alternative Reference

PP-07552339

Application Received

Thu 07 Feb 2019

Application Validated

Mon 13 May 2019

Address

Land North East Of Airmyn Road Roundabout Airmyn East Riding Of Yorkshire DN14 8LA

Proposal

Erection of coffee shop (Use Class A1/A3) including drive-thru and erection of a restaurant (Use Class A3/A5) including a drive-thru, access, landscaping and associated works

Status

Pending Consideration

Appeal Status

Unknown

Appeal Decision

No information
Anyone wishing to comment on this planning application needs to do so by the Consultation Expiry Date of
Weds 05th June 2019. You can do this by email or post to the Ward Councillors for Airmyn, County Hall, Beverley, HU17 9BA. Alternatively you can view all the details and comment online at www.eastriding.gov.uk following these instructions;
View planning applications
How can I view planning applications?
View and comment on planning applications >
Public Access website for planning
Step 3 (at the bottom of this webpage) Enter Public Access website >
(Scroll to the bottom of this webpage) Enter application number 19/00444/PLF SEARCH
Local man to take up position of Parish Clerk
Airmyn Parish Council is delighted to announce the appointment of our new Parish Clerk, Rob Charlesworth, who will officially start in the role on Monday 21 January 2019.
After a rigorous recruitment exercise Councillors appointed Rob on the strength of his administration skills, community values and beliefs. He brings knowledge and skills gained from over 28 years working within the food manufacturing sector, most recently within a Health, Safety and Environmental team.
Rob wants to ensure the Parish Council is accessible to the public and to further improve confidence in the village that the Parish Council has the well-being of the community at its heart. There are exciting and interesting times ahead, including developing the next Parish Plan and ensuring our village continues to thrive and be a great place to live.
Councillor Caroline Fox said "We are delighted to have Rob on board to help us go forward with improving the Parish. Rob is a local man, already serving the community as a member of the Emergency Team and Volunteer Flood Warden, and is looking forward to the prospect of working in the parish and being the Administrator for the Memorial Hall".
Rob said "I am delighted to have been appointed to work for the Parish Council and the community. I am looking forward to continuing the good work that Frances started, working with and for the community, ensuring the views and needs of our community are channelled to our Councillors and supporting the Council in their decision making. I can't wait to get started and would encourage everyone to get involved in the local issues that affect us all".
Rob will be working at the office in Airmyn Memorial Hall and working hours will soon be confirmed and available on notice boards, on the website and social media.
Top of Form
| | |
| --- | --- |
| | Joan Flanaghan, Airmyn was shortlisted in 3rd. place for The Chairman's awards 2019. Joan nursed her parents who both had cancer, and now supports many residents with the ilness. Since 2009 Joan has run a plant stall from outside her house on the High Street, raising over £21,000 for McMillan Cancer Support. Joan uses the funds raised to run a free monthly self-help and social group. For over 30 years she hs been involved in the running of Airmyn Memorial Hall. |